PRODUCT & SERVICES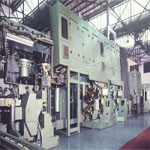 Machinery
Alluminium Collapsible Tubes are available meeting all International Standards including BS and DIN,besides BIS-India.
Alluminium Collapsible Tubes suitable for various applications with compatible internal protective coatings or internally plain include:
Pharmaceutical Creams and Ointments.
Ophthalmic tubes for eye care.
Cosmetic products –Skin Care and Hair Care applications.
Food products-Condensed milk,Jams,Sausages etc.
Adhesive Products-Cyanoacrylate adhesives,silican based adhesives,2Pack adhesives for various applications.
All the input material used for manufacturing the aluminium collapsible tubes meet the regulatory requirements of International Agencies.
Tube sizes are customized to suit customer's specification and application requirements, ranging from 1gm tubes to 200gms tubes in diameters from 10mm to 38mm.
The neck sizes can vary from M5 to M15 with different openings as per product application requirement.

General Guide lines for determining the required tube size :
Tube sizes as per their Filling Volumes – gms (All dimensions are in mm)
| | |
| --- | --- |
| 1gm/2gm | 10x45,10x55 |
| 2gm/3gm/5gm | 12.7/13.5x60,12.7/13.5x75,12.7/13.5x80 |
| | |
| 7gm/10gm/12gm | 16x70,16x85,16x90,16x105 |
| 15gm/20gm | 19x85,19x90,19x110,19x120 |
| 25gm/30gm | 22.2x110,22.2x120,22.2x130 |
| 35gm/40gm/50gm | 25.4x130,25.4x140,25.4x150,25.4x160 |
| | |
| 60gm/70gm/80gm | 27/28.6x150,27/28.6x160,27/28.6x170 |
| | 30x160,30x170,31.75x160 |
| 100gm/125gm | 31.75x170,35x160,35x180 |
| 150gm/200gm | 35x190,38x160,38x180 |
These are only guidelines and the actual sizes may deviate by about 5%(+/-) in length depending on the filled product density.
In case of volumes in ml,the sizes can be extrapolated.
For diameters 22/25/28mm,the nearest sizes can be in 22.2/25.4 and 27/28.6
PLASTIC CAPS
The range is very wide, with available products suitable for 1 gm tube (10mm dia) to 200gm .
Our Plastic caps, cater to the needs of the pharmaceutical, cosmetic & adhesive (including CA) industries,
These caps and closures are made in various grades of HDPE, LDPE, PP etc.
The grade of moulding material used is of food grade and meet the International Regulatory requirements.
These caps and closures are manufactured in a highly hygienic environment that meets high GMP standards.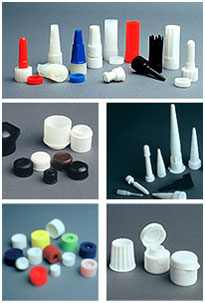 Standard nozzles for which suitable caps are available:
M6 to M16, Open neck, Closed neck with membrane, Long Nozzle,
Flip-Top ,Tamper Proof and other suitable caps.

FEATURES

Over 200 different types of multi-cavity moulds.
In-house mould manufacturing and cap production for additional security.
Well-equipped Quality Control department with regular checks.
Short development cycle for new caps.